Is Artificial Grass Dog Friendly?
Most dog owners are aware of what a bonus artificial grass can be for them. There are no big yellow marks on their lawn caused by dog urine, for instance. And two-foot deep holes in the centre of the lawn in which to bury bones becomes a thing of the past too. There is no dispute artificial grass can greatly benefit home owners, but just how good are they for the health of man's best friend?
Well, that just depends on what type of artificial grass you purchase, in the first place. Our research showed that dogs aren't great with latex rubber – which is what most artificial grasses have for a backing.
Being dog lovers ourselves, here at the Artificial Grass Group (AGG) we were rather concerned about this. And it's the reason we partnered with Namgrass as they provide an artificial grass with no rubber backing. Called Namgrass Barking (of course, it is!), this type of artificial grass has, instead, a dog-friendly polyurethane (PU) undercoat. Not only that, but it's one of our sturdier artificial lawns, meaning it can happily put up with plenty of energetic paws running around.
Oh, and there's also the benefits of it being less absorbent. That means if you don't get to your dog's pee until later it won't have had a chance to smell yet because the grass won't absorb it as quickly as artificial grass with a latex backing.
What exactly is polyurethane?
Polyurethane is also referred to as artificial leather. Certainly, it's a lot less expensive that actual leather. It's comprised of
thermoplastic polymer and is used to make shoes and clothing for individuals following a vegan lifestyle, for instance. It is produced by taking the byproduct of leather ie the fibre left behind from the cowhide and adding a layer of polyurethane.
You'll also find PU leather referred to as Split Leather or Reconstituted Leather.
Why is latex backing bad for dogs?
Actually, it isn't just dogs that latex backing can cause allergies in, but humans too! In humans the allergy results in breathing difficulties, such as asthma. With dogs, latex allergies can often cause skin difficulties ie contact dermatitis. This, in turn, can result in scratching, licking, biting of the skin. The end result is often bald patches in the dog's coat, scaly skin and often a bad odour too. In other words, a latex allergy can make your dog miserable – and you, in turn.
Can my dog play on artificial grass?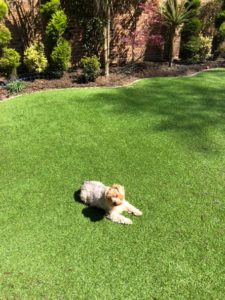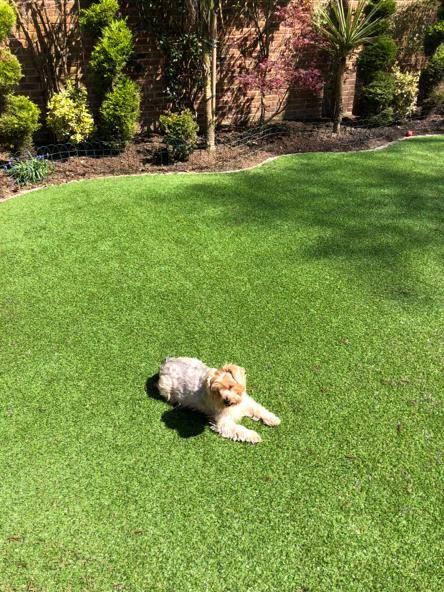 You will find that after a day or two your dog will treat the artificial grass like it would the real McCoy ie it will lie and sleep on it and run around chasing a ball. It just won't be able to bury its bones in it (which can only be a huge bonus!).
Get in touch today!
Got a dog you love but hanker over a lovely lawn too? Then fret no longer. Get in touch with the team here at AGG. We can order you as much Namgrass Barking as you would like and even organise a specialist to lay it for you. For more information call us on 0330 128 0988 or take a look at our website www.artificialgrassgroup.co.uk